From the September 22, 2002 edition of the St. Louis Suburban Journals
By Steve Byran
Correspondent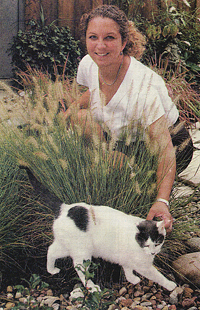 After deciding exactly where to go on vacation, perhaps the most difficult decision facing families these days is whether or not to bring pets along on the trip.
Although there are entire websites devoted to traveling with a pet, flying or driving across the country can be a traumatic experience for most domestic pets and their owners.
Critter Sitters, 315 Lemay Ferry Road, offers an alternative, though, for vacationing families and business travelers who are worried about leaving their pets behind.
For a modest fee per visit, a sitter will stop by a client's home and take care of their pets on a regular basis.
"We allow a pet to stay in a familiar environment, where they feel secure and are able to keep the routine they are most accustomed to," said Tammy Tvetene of Critter Sitters.
Tvetene and her sister, Cindy Berndt, co-own this South County-based business.
"We both are from households with multiple pets," Tvetene said. "About eight or nine years ago, we ran into a situation where we needed pet care because the whole family was traveling together.
"We found a pet sitting service that was listed under 'Kennels' because they (pet sitting services) really weren't popular at that point," she said.
The sisters used the service, thought it was a great idea for a business and started researching the possibility of opening their own pet sitting service.
"There is a 'Critter Sitters' in Kansas City. We called the owner and got some information about how she was running her business, the size of the business, the number of employees and how long it took to get started," Tvetene said.
In addition to caring for pets whose owners are out of town, approximately one-third of Critter Sitter's business is midday doggie walking.
"That's going to be for customers who are in-town, but just working long hours. That's a trend we continue to see grow because as people are forced to work longer hours and drive further and further to get to work, there's a need in the middle of the day for someone to let the dog out," Tvetene said.
Sitters employed by this service always do a "get acquainted" visit with the owners and the pets before starting a new assignment.
"If you had a teacher come to your house before the first day of preschool, you'd want the child to be on it's best behavior," Tvetene said. "The owner is trying so hard to make sure the pet is on its best behavior, but the pet is going to do what the pet wants to do."
Tvetene said that since it's pretty easy to read the body language of dogs and cats, their most unusal "get acquainted" meetings involve birds.
"We've had some funny situations where we've gone in to meet a bird and the owners are happy and say 'The bird likes you. The bird is sitting on your shoulder,'" Tvetene said.
"But then the bird doesn't want to go back in its cage. The bird decides he's going to hang out and visit for a while," she said, laughing.
"We try to enter the house as subtly as possible and just king of blend in. For any of the animals that are shy, we make sure the owner shows us all their special hiding places," Tvetene said.
Even after a successful first meeting, some pets still get upset that their owners have left them home alone with someone new.
"We had a customer's dog that chewed the couch apart," Berndt said. "Generally, it's not the first time the pet has done that, so the owners aren't surprised, but we find ourselves in the position where we are trying to apologize for the pet's behavior."
Because Critter Sitters caters to customers who view the sitter as something like a child's nanny, unusual requests can become the norm.
"We took care of a dog where the owner asked that when I feed the dog, could I sit down at the kitchen table and maybe eat a little something myself because the dog liked to each when other people are eating," Tvetene said.
"We had a little Chihuahua who wouldn't come inside unless you yelled 'Hot Dog!' That's what made the Chihuahua come inside because that was his treat—they gave him a little hot dog treat when he was a good boy," she said, laughing.
Berndt said that although they laugh about situations and requests like these, they really are grateful to have the kind of customers who spoil their pets.
"It's gotten to the point, eight years into this, that nothing surprises us. We've heard it all, from the Wedgwood china dishes that the dogs eat out of to making sure that 'General Hospital' is on because my dog likes the soap operas," Berndt said.
Critter Sitters is insured and bonded and belongs to Pet Sitters International, a membership organization for professional pet sitters.
The company charges $15 per visit for domestic animals, and $1 per visit for each additional animal. The service area includes West, Mid and South County.
"Most of our sitters have been with us a very long time and the people who work for us do this because they truly love animals. This is not something you do to get wealthy," Tvetene said.
Although she finds it rewarding providing a useful service to pet owners, Tvetene said there are the occasional drawbacks to this line of work, however.
"Because we've been in business for eight years now, we've had pets that we've taken care of for four, five, six years that have died. If it's an animal that you've walked every day, five days a week, and that animal dies, you're feeling like you've lost one of your own pets," she said.
For more information, please check out the Critter Sitters website at www.stlouiscrittersitters.com.
Share Critter Sitters with your friends!