ATTENTION ANIMAL LOVERS!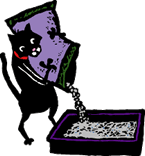 Have fun and earn money caring for pets in your neighborhood.  If you are honest, dependable, at least 21 years of age, have reliable transportation and enjoy the public, we want to hear from you.
As a part-time pet sitter, you must be available to make in-home visits daily, including weekends and holiday periods to care for animals in zip codes near your home. Morning dog visits are made between 7:00 a.m.- 9:00 a.m.  Evening dog visits are made between 7:00 p.m. – 9:00 p.m. Visit times for cats, bunnies, birds, etc. are typically more flexible, but ideal pet sitter candidates will be available for morning and evening rounds between 7:00 and 9:00.
As a part-time dog walker, you must be available to make visits Monday through Friday between the hours of 11:00 a.m. and 3:00 p.m. Many of our pet sitters are also dog walkers.
Background checks are made on all pet care candidates.
To apply for a pet care position, please print and complete the employment application. Your completed application can either be mailed or faxed to the Critter Sitters office. Our fax number is (314) 962-8601.  The mailing address is 925 Briarton Ave., St. Louis MO 63126. No phone calls please.