Why should I use Critter Sitters' Critter Cleanup service?
Face it, it's not the most pleasant task, and you've got better things to "doo" with your time. Let us do the dirty work and you can wash your hands of the whole mess!
In addition to being a nuisance, dog waste is toxic to your lawn, causing burns and discoloring. Moreover, dog feces can carry several parasites that can be transmitted to humans and other animals.
What services are available?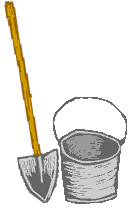 Critter Sitters will come to your house, condo or apartment, and cleanup what your dog left behind. We bag it and take it with us when we leave. Our insured and bonded employee will leave a door hanger so you will know exactly when your yard was scooped.
Tools are disinfected after each yard to eliminate the possibility of spreading disease. We can also disinfect and deodorize decks, patios, dog runs and kennels.
Critter Sitters offers commercial service for hotels, condos, apartments, business parks, dog parks and playgrounds.
To learn more about our pet care services, see our pet sitting, dog walking, puppy care, or in-home dog training pages.
What is the Critter Cleanup service area?
Our primary service areas are St. Louis County and City; south of Page Avenue. For a complete list of zip codes see our service area page.
How much does it cost to scoop my yard?
Residential Fees*:
——–>     One visit per week        Two visits per week              Bi-Weekly
1 Dog       $12   ($52 monthly)     $9    ($78 monthly)       $18   ($39 monthly)
2 Dogs     $15   ($65 monthly)     $11  ($95 monthly)        $23   ($50 monthly)
3 Dogs     $18   ($78 monthly)     $13   ($113 monthly)     $27   ($59 monthly)
4 Dogs     $21   ($91 monthly)     $15   ($130 monthly)     $32   ($69 monthly)
5 Dogs     $24   ($104 monthly)   $17   ($147 monthly)     $36   ($78 monthly)
First Time or One Time Cleanings:
Low accumulation               $30
Moderate accumulation      $60
Heavy accumulation           $90+
* Oversized yards, cleaning front yards, calling or knocking beforehand and cleaning rocks/rocky areas all require additional charges.

Mastercard & Visa accepted.
How often do you scoop?
We scoop once a week, twice a week or bi-weekly. If you would like your yard to be scooped more often, please contact us to discuss your needs.
Do you offer one-time-only service?
Absolutely! If you have a party or special event, or are buying or selling a home, why not let us make sure the yard clean and presentable?
Rates for one time cleaning are based on accumulation. Please see our fees listed above.
What do you do with the poop you scoop?
We take it with us when we leave! Waste is double-bagged and disposed in accordance with St. Louis County regulations.
Do you scoop when it snows or rains?
Yes, in light snow or rain. The only time we can't scoop is if it's so muddy it would damage your lawn, or if there's too much snow to see any accumulated droppings. If we have to miss a day, we will postpone that day's service until the next day or two.
Do you scoop on holidays?
We do not scoop on New Year's Day, Memorial Day, 4th of July, Labor Day, Thanksgiving Day and Christmas Day.
A work schedule is posted on your invoice to let you know our make-up day in the event your service day falls on a holiday.
Should I leave my gate unlocked?
Yes. Since our employees do not climb or jump over fences (we're not as agile as our furry friends), please have your gate unlocked on your service day. You may provide us with a key to the lock or tell us the combination to your lock.
Can you scoop with my dog in the yard?
Usually, yes. We like animals and are comfortable with most dogs. However, if your dog is territorial or aggressive, we ask that you restrain or confine the dog.
What if I want to skip a service day?
You can temporarily suspend service without any penalty by contacting us at least 24 hours in advance of scheduled service. You will not be billed for days you skip if we are notified in advance. However, if your gate is locked or the dog will not allow us to scoop the yard when we come to do the work, it will be necessary to charge for the service call that could not be completed.
How does your "Satisfaction Guarantee" work?

Critter Sitters strives to provide a "sooper scooper" service, but if there is ever a time when our service is not completely satisfactory, please contact us right away. If you are not satisfied for any reason, we will come back and make the job right, or we will credit your account for that service day.
Do you have a referral program?
Yes! Know a friend or neighbor who needs Critter Cleanup? Refer a friend who signs up for continuous service (once weekly, twice weekly, bi-weekly) and you get $20 off your next bill.